It's become some sort of obsession of mine, checking my Ravelry project page for comments and to see if any of my projects have been favorited by other members.
What a surprise today when I saw that a project not previously favorited had been favorited.
What's even better about it is that project was favorited by the author of the book in which the pattern came from!
Now, about the project.
I had been joking around with some friends on how I could knit practically anything. I mentioned handcuffs and that I found this pair that I wanted to knit in a book I had just gotten at the library called
Knockdown Knits: 30 Projects from the Roller Derby Track.
Being the person I am, I decide to knit a pair for a friend (who I don't talk to anymore). I'm given the most perfect yarn for the project from a friend that's in my knitting groups. Black with beads from ICE Yarns. Blend that with Lion Brand Lame in silver, and you have the most perfect cuffs!
ICE Yarns Bead Fancy, Black with Rainbow Beads.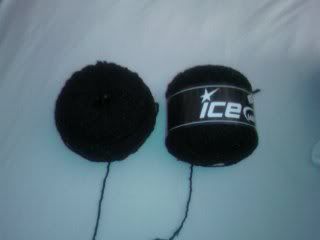 This yarn was fun to work with, even though some of the beads are difficult to see on the black yarn.
82% Polyester, 18% Sequins
Lion Brand Lame in Silver.
I wanted something to add to the cuffs, and I knew this would be the perfect addition.
Fingering Weight 65% Rayon, 35% Metalized Polyester