Here it is, the big picture update (at least I hope so as the pictures didn't want to work last time I tried to post one...)
So, this stuff is in no particular order....
I have someone special who will occasionally be making appearances as a model here on the blog. It's none other than Harry Potter. Okay, so it's just a cardboard cut out of Harry Potter....But he doesn't complain about anything, so what could possibly be better?
Ah, and the lovely flash that you can see off of Harry!
Here is Harry modeling a scarf. Although you can't really tell.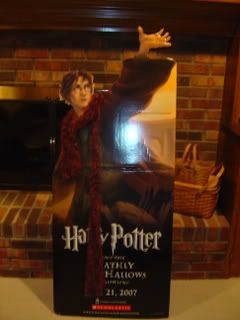 And a close up of the yarn used to make the scarf he's wearing...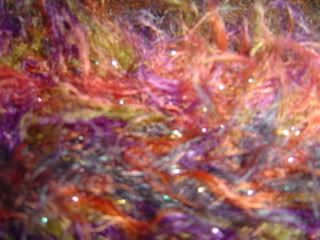 It was done using
Moda Dea's Frivolous
in Nightlife.
And once again, here's Harry modeling a hat and a bag that I recently made...
Both are made out of some Bernat acrylic and a yarn called Playful in Bermuda Sun purchased at Hobby Lobby (it was some of the $1.77 yarn I got.).
And close ups of both....
These are the sock yarn arm warmers I made using
Plymouth Yarn's Sockotta
. This is the second pair that I made. I used
this pattern
but made the thumbs a bit longer.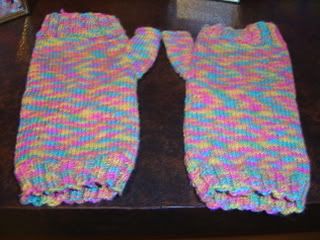 These are two of the hats I've made out of
Patons Twister
. One is Fruit Loops and the other is Zebra Twist...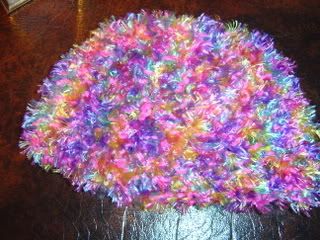 I made these gauntlets out of
this book
(so informative, I know!). There are a lot of patterns I like in
Knit.101 book. It's a book that I really need to order for my collection!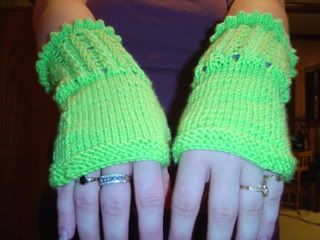 And a close of of the pattern....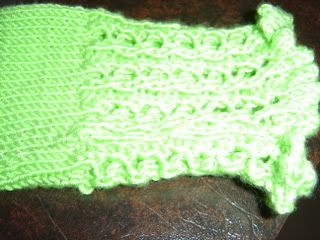 The pattern calls for Lion Brand Microspun. I'm going to make a pair in white and a pair in black too.


And now for the green and white baby blanket, which did turn out square shaped this time. I really like it.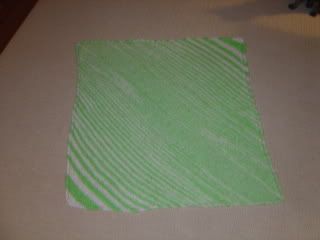 This is a hat I made a while ago using Yarn Bee Whirligig in Sunny Side.


That's it for finished knitting projects, so now onto the UFOs!
Not a very good picture, I'm aware. This scarf is being made using
Bernat Matrix
in Web Wines. I'm using size 8 bamboo needles and 22 stitches across.
This is the scarf I'm making to match the Bermuda Sun (as the yarn color is called) hat and bag. I'm using size 9 bamboo needles and 20 stitches across.
I've started one of my other baby blankets. This one I need to have done by sometime in September. It's a diamond pattern from Fiber Trends. I'm using Bernat acrylic that's incredibly soft.
This is what I have done of it so far.....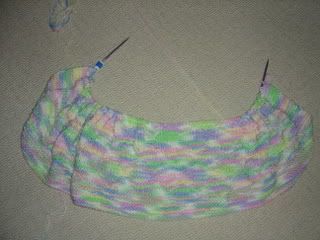 And this is a close up of the diamonds, although I don't really think that you can see them that well....
This is the Fun Fur Cuffed scarf that I'm working on (as I finally found it. Yay!) I think that the acrylic is Red Heart, and then
Lion Brand Fun Fur Stripes
in Cotton Candy.
So, I think that's everything for now. I hope that you've all enjoyed the massive update and the pictures that I've been promising forever. More soon!