It's great when you make the trek out to your mailbox to see what awaits you. What could be better than seeing a large envelope with your name on it?
I've gotten two great things recently from members of Ravelry.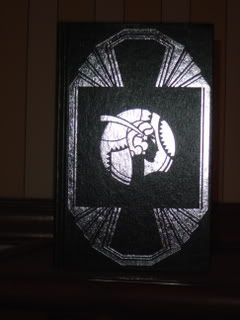 From my
RAK (Random Acts of Kindness) Group
, I got a new journal. Each month, members of the group make a list of items they wish they could have, and if someone has them, they get mailed out, sometimes as a surprise. It's a great way to find some things you would like to have, and a way to find new homes for those items that you no longer want.
I got another package recently from another group I'm part of. It was a wonderful surprise that I had no idea to expect. I received a lovely pair of hand warmers in my favorite color combination! They're fantastic and I love them. I'll always be reminded that I have friends out there who care and who know just what to do to cheer me up!
Oh, and how pathetic is it that I'm looking forward to
Disney Channel's Camp Rock
to air tomorrow night?!